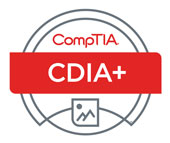 CompTIA Certified Document Imaging Architect (CDIA+) certification ensures critical knowledge for a career in the document imaging and document management industry.
The international, vendor-neutral certification covers all major areas in the technologies and best practices used to plan, design, and specify a document imaging management system. Skills and knowledge measured by this exam is representative of a document imaging professional with 12-to-18 months on-the-job experience.
Visit CompTIA's Official Web Site for more information.