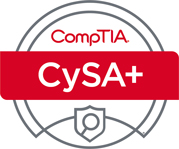 CompTIA Cybersecurity Analyst (CySA+) is an international, vendor-neutral cybersecurity certification that applies behavioral analytics to improve the overall state of IT security. CySA+ validates critical knowledge and skills that are required to prevent, detect and combat cybersecurity threats.
CompTIA CySA+ is for IT professionals looking to gain the following security analyst skills:
Configure and use threat detection tools
Perform data analysis
Interpret the results to identify vulnerabilities, threats and risks to an organization
Visit CompTIA's Official Web Site for more information.