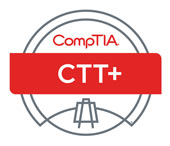 CompTIA Certified Technical Trainer (CTT+) certification identifies excellent and dedicated industry instructors.
It is an international, vendor-neutral certification that covers core instructor skills, including preparation, presentation, communication, facilitation and evaluation in both a classroom and virtual classroom environment.
Two exams are necessary to be certified: CompTIA CTT+ Essentials (TK0-201), and at least one of the two designations: Classroom Trainer (TK0-202) or Virtual Classroom Trainer (TK0-203). Candidates will need to supply a video or recording of their classroom or virtual classroom sessions.
Visit CompTIA's Official Web Site for more information.