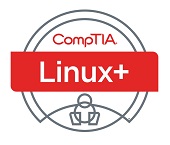 CompTIA Linux+ Powered by LPI consists of two exams, LX0-103 & LX0-104. The exams cover system architecture; Linux installation and package management; GNU and Unix commands; devices, Linux filesystems, and the Filesystem Hierarchy Standard. Professionals who pass the exam can work at the Linux command line, perform maintenance tasks, assist users, and install and configure workstations.

The LX0-103 and LX0-104 series is an update to the LX0-101 and LX0-102 series, which retired on Aug. 30, 2015.

By completing the CompTIA Linux+ powered by LPI certification, you can also automatically receive the LPI LPIC-1 and the SUSE Certified Linux Administrator (CLA) certifications. Earn three industry-recognized certifications for the cost, time, and effort of one.

Visit CompTIA's Official Web Site for more information.