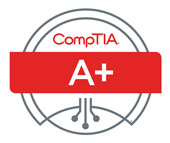 CompTIA A+ certification validates foundation-level knowledge and skills necessary for a career in PC support. It is the starting point for a career. The international, vendor-neutral certification proves competence in areas such as installation, preventative maintenance, networking, security and troubleshooting.
In order to receive the CompTIA A+ certification, you must pass two exams:
Visit CompTIA's Official Web Site for more information.
Our CompTIA International A+ Test Vouchers are all bundled with study guides without extra charge, and will be delivered via email in one business day after you place an order.