CompTIA Online Testing Available Starting April 15, 2020 - Exam takers concerned about test center closures can now take CompTIA exams from home. Visit CompTIA's web site for more details.
CompTIA's exams are delivered through VUE's system. VUE provides two delivery options for all CompTIA exams. You may choose to take the exam at a local test center, or at your home or office. (see screen shot)
×
At a local test center
This is a public institution available for delivering your exam.
At your home or office
VUE online proctored exams allow you to conveniently take an exam in the comfort of your home or office.
Our CompTIA vouchers can be used for taking the exam at a local test center, or at your home or office.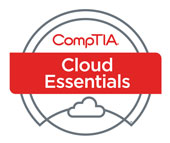 The CompTIA Cloud Essentials specialty certification demonstrates an individual knows what cloud computing means from a business and technical perspective, as well as what is involved in moving to and governing the cloud.
The CompTIA Cloud Essentials exam covers:
Characteristics of cloud services from a business perspective
Business value of cloud computing
Technical perspective/cloud types
Steps to successful adoption
Impact and changes on IT service management
Risks and consequences
There are two CompTIA Cloud certifications: CompTIA Cloud Essentials (CLO-002) is for the entry level and CompTIA Cloud+ (CV0-002/CV0-003) is for the advanced level.
Visit CompTIA's Official Web Site for more information.