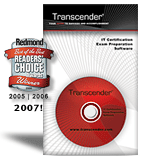 Transcender is dedicated to helping IT professionals strengthen technical job skills and prepare them for tough certification examinations by developing the highest quality learning and exam preparation products. In fact, IT professionals consistently vote Transcender's exam preparation solutions as the most in-depth and realistic in the world.
Transcender's products are used by thousands of computer professionals worldwide to prepare for their Cisco, CompTIA, and Microsoft exams. With Transcender you can be sure you're completely prepared and you can feel confident that you have the extra edge you need to pass the exam.
Visit Transcender's Official Web Site for more information about the contents, demo, and retail prices for all Transcender's products.

Exam Voucher is a discounted, pre-paid permit to write the exam. You can purchase the voucher with the discount prices from us and save money immediately on your certification exam. To learn more about our voucher program, click Here.
Furthermore, our exam vouchers can also be bundled with Transcender's products at huge discounts to give you the preparation edge you need to pass your certification exams, including CompTIA, Cisco, and Microsoft. Actually, many IT professionals rely on Transcender's products, especially Transcender Practice Exams, to prepare and pass their certification exams.